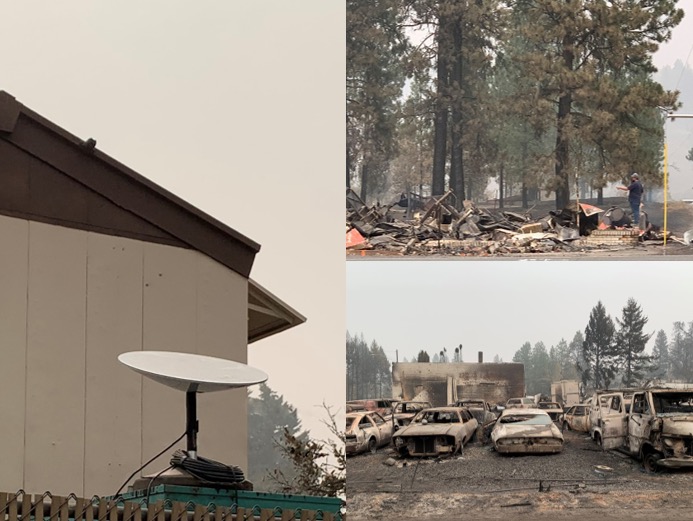 SpaceX Starlink is providing Internet access to Washington state emergency responders in areas ravaged by wildfires. The group has deployed seven Starlink user terminals (i.e. satellite dishes) since it began using the service in early August, as CNBC reported yesterday:
"I have never set up any tactical satellite equipment that has been as quick to set up, and anywhere near as reliable" as Starlink, Richard Hall, the emergency telecommunications leader of the Washington State Military Department's IT division, told CNBC in an interview Monday.
The broadband service has helped both emergency responders and families in wildfire-stricken areas. Hall "has set up terminals in areas that were burned severely to provide evacuated families with wireless calling and Internet access to file insurance claims," CNBC wrote. Hall said he also "did setup to allow kids to do some of their initial schooling."
Hall said Starlink has "easily double[d] the bandwidth" compared to traditional satellite broadband and consistently provides latency of less than 30ms.
Traditional geostationary satellites that orbit at altitudes of more than 35,000km provide latency to residential customers of about 600ms, according to Federal Communications Commission measurements, making them a poor substitute for cable or fiber. Starlink, with its low-Earth orbits of 540km to 570km, can deliver something much closer to the experience provided by wired broadband services, despite skepticism expressed by the FCC.
Compared to Starlink, Hall said that traditional satellite provides "a lot less speed and bandwidth and a lot higher latency in a much larger package." On Monday, Washington's Emergency Management Division said on Twitter that it's happy to have Starlink "as emergency responders look to help residents rebuild the town of Malden, WA that was overcome by wildfires
…