Amazon (AMZN) held its much-anticipated Fall "Hardware Event" this week. I call it "gadget day" because I can't help but think of "Inspector Gadget" every time I hear of the new products Amazon announces. Yet, as impressive, affordable, and disruptive as some of the new products and services are, for Amazon, the significance of Gadget Day extends far beyond more gadget sales. The second order effect is that Amazon wants to convert gadget buyers into Prime member subscribers. And once you're a Prime Member, it's similar to the last lines of The Eagles' song "Hotel California":
We are programmed to receive. You can check out any time you like, but you can never leave.
Hotel California lyrics Universal Music Publishing Group, BMG Rights Management; Songwriters: Glenn Frey/Don Felder/Don Henley
Translation: once a consumer experiences the many benefits and services of being a Prime member, they'll continue to renew year-after-year. And the new gadgets will draw more consumers to the Amazon website and, subsequently, to Prime.
Without a doubt, my favorite product of this year's Gadget Day was the new Ring "Always Home Cam" shown below. It's a fully autonomous surveillance drone that flies around your house – on a mapped path which you can program – and then re-docks itself for charging once the reconnaissance flight has reported to you and completed its mission. The device is integrated with the already highly successful Ring Alarm, which can trigger a launch of the drone cam and a pre-programmed "alarm" flight plan. The Always Home Cam is expected to start shipping next year and to cost $250. You can watch a short video of the security cam here.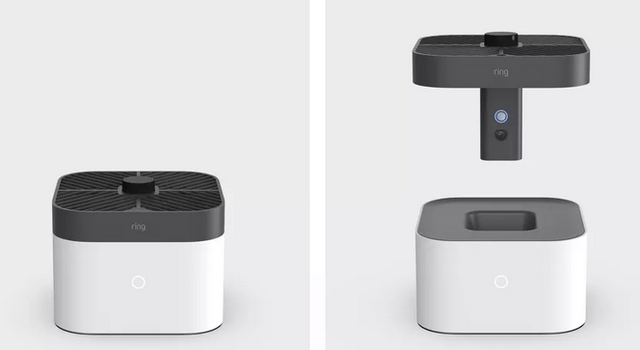 Source: The Verge
In a blog post, Ring developer Jamie Siminoff said:
Instead of simply encouraging customers to buy more cameras and set them
…