Hellfeed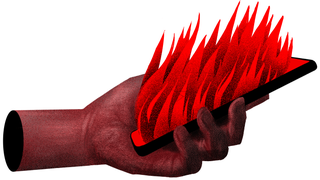 Hellfeed
Hellfeed is your bimonthly resource for news on the current heading of the social media garbage barge.
It's time for Hellfeed, your biweekly summary of who's kicking and screaming online, and we really couldn't have picked a better day: The president tweeted that he is ill with the novel coronavirus this morning and then totally dropped off the goddamn radar.
While the nation waits for updates on the president's condition—the White House has quietly upgraded the severity of his coronavirus infection from "mild" to "very moderate"—it is simultaneously hooting, claiming it's a hoax, preparing for chaos, demanding civility, and generally not having any idea what the hell is going to happen next. This really caps off two weeks of everything breaking, which we've summarized below.
Facebook hits back at The Social Dilemma
The Social Dilemma, Netflix's documentary on the deliberate design choices behind the online attention economy, is sort of a hot mess. It certainly raises good points about the business model and manipulative nature of companies like Facebook, but it also posits social media as the cause of rather than an amplifying factor in the state of society and doesn't meaningfully interrogate how all of this is shaped by factors like capital, class, and politics. (It's perhaps best summed up by a ridiculous Reefer Madness-style frame narrative, featuring a teen who is radicalized into some kind of nebulous "Extreme Center" extremist organization after staring at his phone for a few days.)
That aside, The Social Dilemma has earned largely glowing reviews and a flurry of attention because of… well, everything that's going on right now. Facebook itself has now responded with a point-by-point list of what it says the film got wrong, complete with helpful pointers like
…