The mobile healthcare market in India is booming. It's set to expand at a compound annual growth rate of 31%, reaching INR 13,800 crore by the end of 2024, according to the report "Healthcare Apps Market in India 2019" from Research and Markets. The COVID-19 outbreak has only catalysed the sector's rapid growth.
Urban India is no stranger to online heath consultation thanks to the likes of Practo and WebMD. Now, though, online healthcare companies are seeing increased traction in tier-2 and tier-3 cities too.
In fact, it's smaller cities, and not metros, that are now the biggest growth drivers in the health insurance domain.
Two Stanford graduates, Rajat and Manuj Garg, identified the business opportunity these cities represented in 2016, and created myUpchar to meet the need for reliable healthcare consultation.
More recently, with the increase in demand for online health consultation, myUpchar turned to AI to improve the efficiency of registered doctors in their network by examining patients' inputs, combining them with their existing data, and suggesting a diagnoses to the doctors.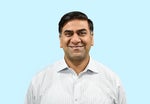 Rajat Garg, CEO and co-founder of myUpchar, said that the company has done over 10 lakh free consultations and this turned out to be a source for quality data.
"This data, along with our research, is used to provide the right diagnosis and medications for the queries. Our system then analyses user inputs which are combined with our data to generate a diagnosis and prescription," he explained.
He added that the technology helped achieve a high accuracy level which decreased the time per consultation to 1–2 minutes.
The linguistic challenge
Garg said that the foremost concern was the scarcity of research in the Hindi AI space. Choosing the right kind of AI technology was a crucial task and
…